Product display
CNC Hydraulic Lower Transmission Bending Machine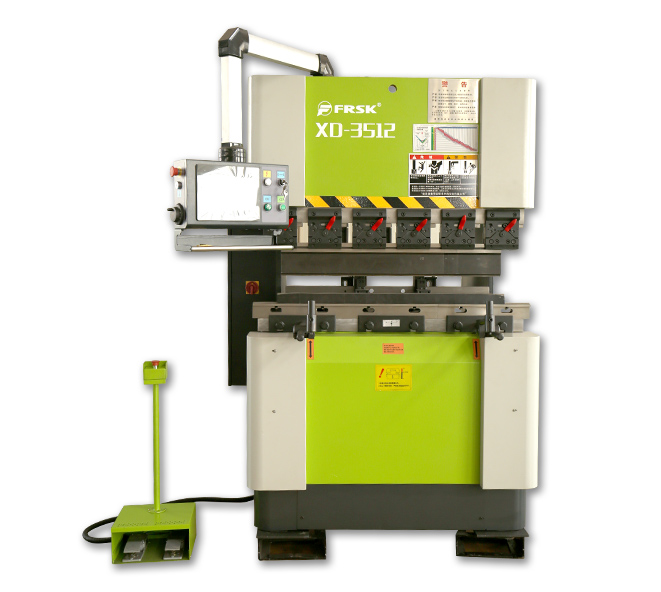 Application Area
Technical specification
XD-3512
XD-6020
XD-1030
Technical Features
1、The working speed is fast,there is no liquid filling pause when switching fast and slow,and there is no pressure relief and pressure starting process in the return journey.One travel time is short and the working speed is fast.The working speed is increased by about 50% compared with the existing lower-type bending machine
2、Programming is very simple ,no need for plate thickness,plate width,upper die,lower die,material tensile strength and other programming parameters ,the angle is directly adjusted by hand wheel.The worker can master in 5 minutes .Upload programming is at least 2 hours.
3、Low maintenance costs,no proportional valve,not affected to wear and tear,the failure rate is very low.Energy saving and consumption reduction :when working,it can save electricity and reduce consumption ,saving more than 50% of electricity compared with the existing lower bending machine .
4.To control Y axis fluctuation position at discretion by using grating.
5.speed stepless regulation:according to the work requirements,the speed can ba arbitrarily adjusted range of 10%-150%,can more effectively complete the batch processing production tasks.
6.The control system adopts the professional numerical control system NC9 or NC10,with a touch-type wire-controlled steering wheel ,and the electronic handwheel controls fine-tuning the upper and lower die-to-line and the back-end material fine-tuning .
7.It is euipped with a special bending lower die for corner forming machine and the forming effect is very good .



Technical specification

Unit

XD-3512

XD-6020

XD-1030

Nominal pressure

kN

350

600

1000

Length of table

mm

1200

2020

3000

Distance between housings

mm

1000

1700

2550

Throat

mm

200-250

400

400

Stroke of working table

mm

100-103

100-103

100-103

Max. open height

mm

430-435

430-435

430-435

max. die setting height

mm

310-315

310-315

310-315

Speed of lower working table

approaching



mm/s

37-47

52-65

37-47

bending

7.5-1.0

7.0-8.5

7.5-9.2

returning

47-55

52

47-66

Number of hydro-cylinder

个

1

3

3

main motor

kW

3

5.5

7.5

Machine precision

Slide repeating

mm

≤±0.01

≤±0.01

≤±0.01

Slide positioning

mm

≤±0.02

≤±0.02

≤±0.02

Back gauge repeat positioning

mm

≤±0.02

≤±0.02

≤±0.02

Working precision

Work straightness

mm

0.15/m

0.15/m

0.15/m

Bending angle error

′

<±15

<±15

<±15

Net weight

kg

1900

3500

6500

(L*W*H)Overall dimension

mm

1320*1300*2170

2100×1580×2240

3410×1560×2560

Hydraulic tank capacity

L

33.0

51.0

70.0